This forum is dedicated for:
i. Discussions on football jersey related stuffs
You can talk here about anything related to football jerseys such as where to find a certain jersey (where to buy it), how to create a jersey for your Sunday League Team or futsal team, which jersey is the best and others and what are the new latest jerseys launched for the new season coming ahead.. (previously we would have a thread called 'New Kits 2007-2008' but lets share the pictures and stories here as well..
Let's have a single dedicated forum here to talk about anything about football jerseys and collecting them.
ii. My-FJC Footbal Jersey Collectors
From left: aw13, digitax, schmeichel7, chcer
* Taken from our first 'official' gathering at al-ikhsan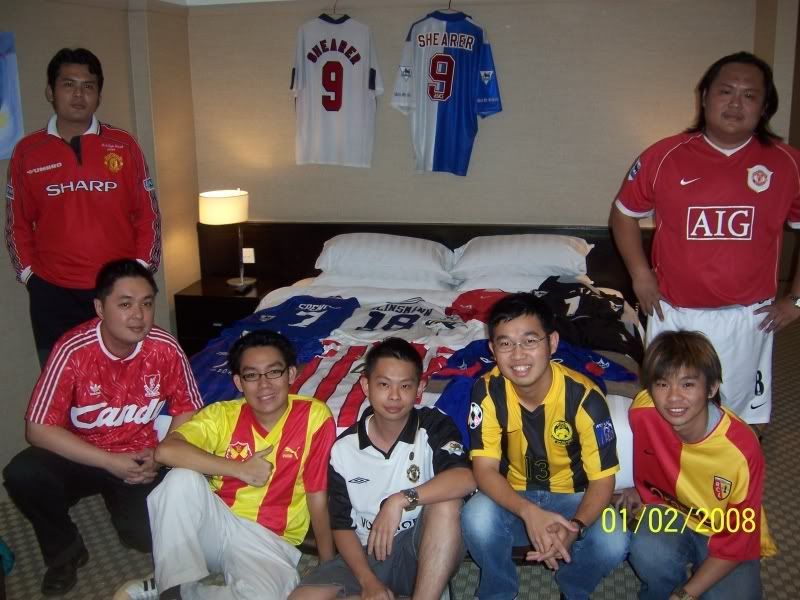 From left: faisal (schmeichel7's brother), liverpool red, aizusan, edmund83, aw13, allister, schmeichel7
* Taken during our Football Crazy shooting with ESPN
* Some JC brothers from Indonesia. Standing second from left is our JC member oscar7 and standing third from left is another JC member acman
* Photo taken during our first ever official gathering at 1st March 2008
From left: Terrance, Aaron Wong (aw13), Edmund, Alister (alister88), abs-, Faiz (aizusan), Faiz (schmeichel7), Andy (acman) & Steven (chcher). Missing in photo is Keith (digitax) who was late.
We were in ESPN Football Crazy (Saturday, 16th February 2008):
Who are we?
. We call ourselves
(
stands for Jersey Collectors) and we're proud of it.
. We collect original jerseys and try to avoid the fake ones.
. We like the name
because
sound like 'jerseys'.
. Some think we are freaks or crazy people addicted to buying jerseys
. Our wives normally don't understand us (applies to both moderators, schmeichel7 and aw13)
What do we do?
. We love collecting football jerseys, sharing our collections to fellow jersey collectors a.k.a.
and we love to talk about jerseys
. We also love to go shopping at sports stores, we have the same high once we pay for the jersey and when we go back home and smell, hold, wear, wash, hang it
. We also try to bribe our wives when they nag because we bought another jersey by buying them shoes, clothes etc (applies to both moderators again)
What do we love?
. The passion of collecting jerseys
. Going to sports stores such as al-ikhsan, q-line, Nike and Adidas boutiques
. Browsing online websites that sells jerseys
. Sharing our collection with other fellow
What do we hate?
. Hate most -> Fake jerseys, Grade As, Imitation Jerseys
. We also hate flammers, who says anything bad about other fellow
beloved club
Why do we want to be heard?
. So that every
feels normal and not alone
. The truth is that there are many
in Malaysia. My mission hopefully is to have a gathering or union/club of all
in Malaysia